I am so super duper excited to have been chosen as a Design Team member for The Scrapping Spot . I've bought their monthly kits since they opened and have never been disappointed. The owners Cathy and Jill always have something going on in the forums so please stop by and get to know them and all the rest of the regulars...you won't be sorry :) There are several different challenges each month, weekly sketches by Shawn from my favorite place, Nuts About Sketches plus layout tag, question of the day, and so much more. *LOVE* these ladies!
So as a way to share the enthusiasm...I'm really, really, really, really excited to be on the DT this term, can you tell???.....I'm giving away FREE SHIPPING to a new person who orders the upcoming July kit. The kit sneak peeks are up today and I'll share a few with you to tempt you :) I fell in love with this kit as soon as I opened the box. If you've got beach, pool, or summer pictures hang onto your seat because you might just fall off when you see the goodies in the July kit!
one sneak.....
and another sneak....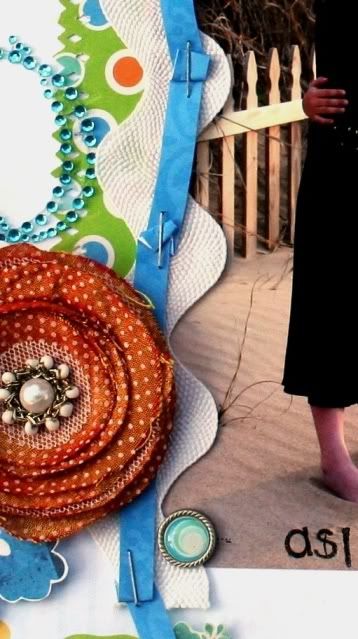 Intrigued? Want one of these fab kits for yourself? YOU SHOULD TREAT YOURSELF! Here's how YOU, a new customer, can win FREE SHIPPING from ME :)
1. go register at The Scrapping Spot's Forum and introduce yourself on the forum
2. leave a comment on this post letting me know you've done that and what your userid is over there.
It's really that simple! Kits are put in the store on the first of each month so I'll put all the newbies' names in a hat and draw one out on June 30th around 6pm EST. Make sure you do both steps above before I draw the winner. I'll announce the winner here on the blog as well as send a pm to the winner via the forum at The Scrapping Spot. When you order your July kit on the first (please don't wait, I swear they go FAST) you'll only be invoiced for the kit and whatever extras you purchase.
Now...go do steps 1 and 2. You know you'll want this kit!!